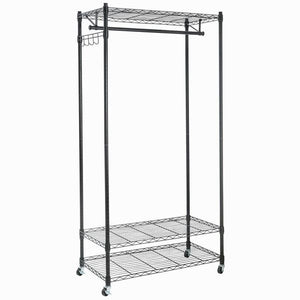 LIMITED TIME OFFER PRICE MAY INCREASE SOON - THIS ITEM IS COVERED BY HOME-IT FREE LIFETIME GUARANTEE

storage racks

Includes one garment rack

adjustable shelves metal shelving wire shelves
Assembles in minutes without tools. strong welded wire construction. double-sided access. rack includes 3 foot hanging rod for garments and four support hooks for umbrellas, bags and other items. three shelves support 350 lbs. open design allows air circulation and prevents dust buildup. powder coated black finish. hangers not included.